<< vorige | Hoofdmenu | Volgende >>
Tussen 1958 en 1990
Marinebroadcasting ofwel zeezenderij, want in tegenstelling tot www.marinebroadcasters.com is dit log in het Dutch geschreven, is een uniek onderdeel in de rijke geschiedenis van het zo geliefde medium radio. Het speelde zich af in West Europa tussen 2 augustus 1958 en 5 november 1990 in de Noord en Oostzee wateren, maar dan wel altijd< nou altijd?> in internationale wateren vanaf zendschepen en zeeforten. Zowel het eerste als het laatste zendschip werd voorheen gebruikt in de visserij, de eerste was de Cheetah1 van Radio Mercur, de laatste was de legendarische Ross Revenge van de moeder aller zeezenders teweten Caroline. Populaire vlag aanboord van de diverse zendschepen was die van Panama, altijd wel te koop in de dump, who cares about de registratie.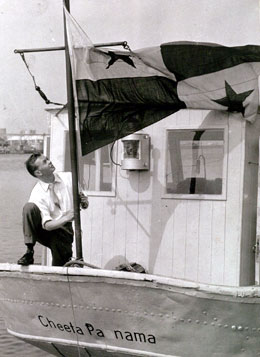 De Cheetah in juli 1958 , klein maar dapper,de vlag van Panama in top. Al snel bleek dat het scheepje maar kort daar was geregistreerd, immers dat kost geld en eenmaal in internationale wateren is er geen haan die er naar kraait.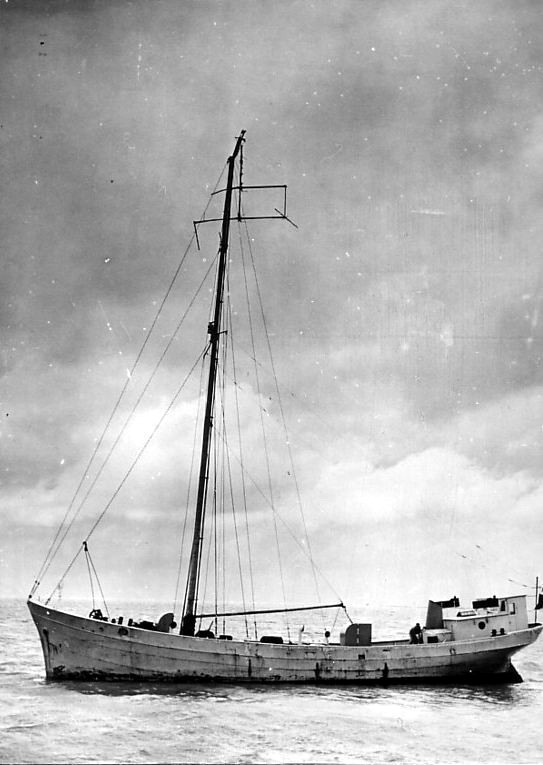 Augustus 1958 op volle zee, zo'n 10 km uit de kust van Kopenhagen. Uniek voor die tijd, Mercur zond uit op fm. Boven in de mast iets wat op een antenne lijkt.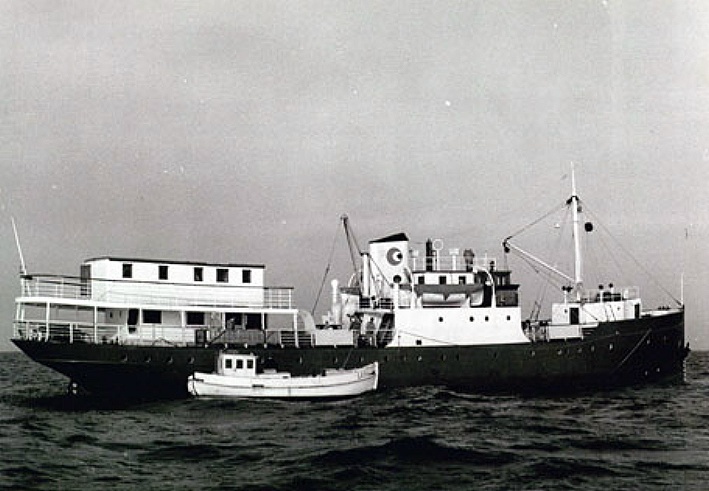 Het was krap op de Cheetah, klein scheepje, vooruit op zoek naar wat meer ruimte, ziehier de Cheetah 2 voor ombouw.....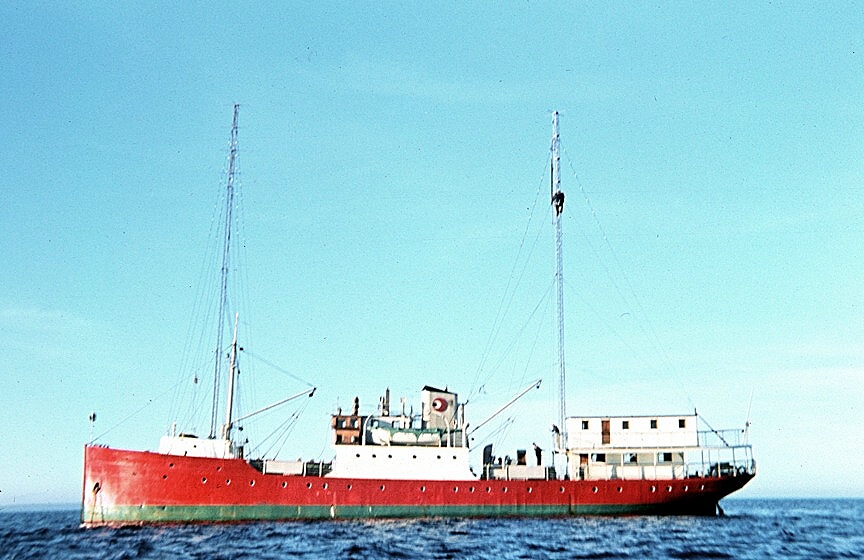 ................en hier in signaal rood na ombouw. Die kleur mocht niet.........signaal rood was alleen voor lichtschepen, men kreeg het verzoek het schip grijs te schilderen. Aldus geschiedde. De Cheetah 2 in volle glorie in 1961.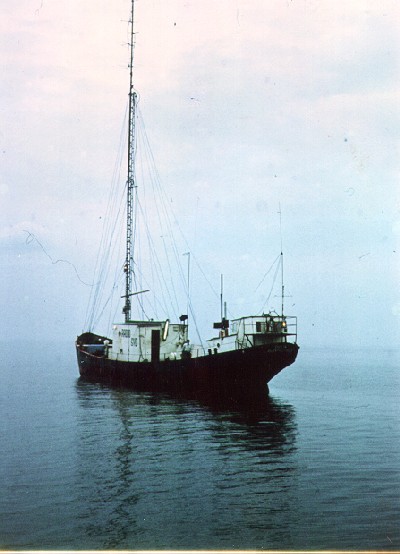 De Cheetah 1 kreeg een nieuwe bestemming als Radio Syd, voor Zweuden natuurlijk en ook op fm.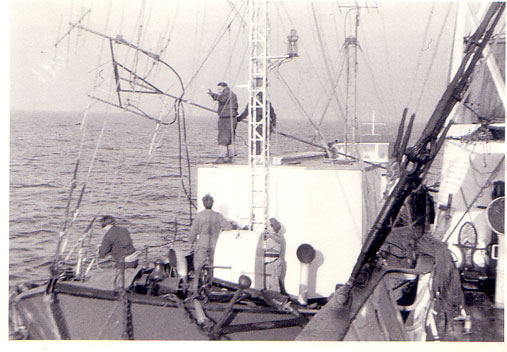 Traditie getrouw,ook al in de vroege 60er jaren speciaal voor zeezender anoraks, liet men af en toe de antennes naar beneden vallen, dan kon je ze tenminste weer een keer opbouwen. Zeezenders horen nu eenmaal te lijden onder rampen, het moet uitdagend blijven.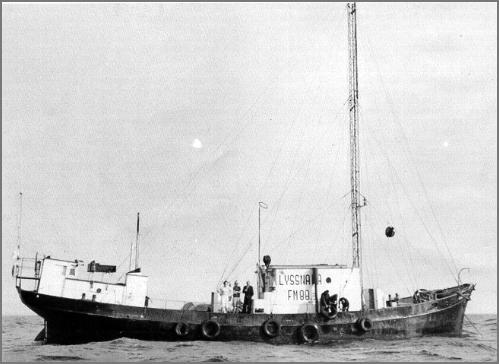 Twas dus een kraap scheepje die Ch1, dus bouwden de Sydenaren er een heus dekhuis op. Kijk goed naar de mensen aan dek en het formaat van het schip. Ze hadden wel lef die jongelui van Wadner en moe Wadner niet te vergeten.
Zo begon het in 1958 die zeezenderij ofwel Marinebroadcasting. Aangezien hier alleen zeezenderanoraks lezen hoef ik niet op te lepelen wat er tot 4 november 1990 gebeurde, moet gesneden<Grunninger> koek zijn.
Dit schreef Wiki over Mercur..........
Radio Mercur
Radio Mercur was a Danish offshore broadcasting commercial radio station. Started regular transmission on August 2nd 1958 and ceased officially on July 31st 1962, though there still were 3 days of illegal transmissions from August 13-15 1962. Later broadcasting took place under the name of Radio Mercur in Mallorca from 1969-70 and again on the Spanish Costa del Sol from 1982-84 and finally in Copenhagen, Denmark as a local radio station from 1987-94.
The first pirate radio
Radio Mercur was probably the first commercial offshore radio station in the world and gave inspiration to a whole number of offshore radios or pirate radios in Sweden, Netherlands, Belgium and United Kingdom during the 1960s. The Danish press soon began to use the expression "pirate radio" on Radio Mercur, and a number of cartoons in newspapers and magazines pictured the radio station with pirate symbols.
Radio Mercur used the fact, that radio transmitting in international water only was regulated by international agreements, that didn't take into account that it was a possibility to transmit regularly from an anchored ship. The inspiration for the radio station came from Radio Luxembourg and the American Voice of America, that broadcast from a military vessel, USCGC Courier, in the Mediterranean.
The success of Radio Mercur directly inspired other groups of radio enthusiasts to begin their own ship-based stations, in The Netherlands the stations Radio Veronica and the artificial island based Radio Northsea and in Sweden Skaanes Radio Mercur (later named Radio Syd) - in the beginning transmitting from the same ship as the Danish station - and Radio Nord close to Stockholm.
Station and ships
The radio station was founded by Peer Jansen and Ib Fogh. It was called a pirate radio, because it was considered a lawless attack on the monopoly of the Danish National Broadcasting Corporation, though the authorities didn't have any weapon in the first place to stop the "radio pirates".
Radio Mercur made all of its recordings in studios in Copenhagen, Denmark and the tapes were then sailed to a transmitting vessel in international water in Oeresund between Denmark and Sweden. Transmissions took place on the FM-band, first on 88,00 MHz, later on different frequencies to be able to meet complaints from the Danish authorities and also to transmit in stereo with dual transmissions on two frequencies simultaneously.
The first transmitting vessel was Cheeta Mercur. It was later accompanied by the larger Cheeta II, placed in Storebaelt between Zeeland and Fuenen in order to cover most parts of Denmark.
In September 1961 another pirate radio station began to compete under the name DCR/The Commercial Radio of Denmark (Danmarks Commercielle Radio), that was started by a group of former Mercur employees. The two stations merged in January 1962 and continued under the name Radio Mercur but with the jingle from DCR. DCR used the vessel Lucky Star for its transmissions.
Legislation changed
The Danish parliament decided a bill in June 1962, that effectively prohibited all participation in activities supporting transmissions, recordings, etc. after August 1st 1962. At the same time similar bills were pushed through in Sweden and the other Nordic countries. Transmissions started again some days later, but the Danish authorities took immediate action and sent police out to seize the vessel and end transmissions. In Sweden the station Radio Syd, using two of Mercur's former ships in succession, succeeded transmissions up to 1966 in defiance of the law.
The National Danish Broadcasting Corporation(Danmarks Radio) started a new programe, the so called Melody Radio (later programme 3 on January 1 1963. The programme was very similar to the programmes on Radio Mercur and several key employees from the pirate radio were working on the programme.
Tot zover Mercur, niets is oneindig-alles is eindig, ook de zeezenderij.
Het eindigde op 5 november 1990 toen voor de laatste keer in internationale wateren de zender aanboord van de Ross Revenge werd uitgezet, de zeezenderij in West Europa was ten einde.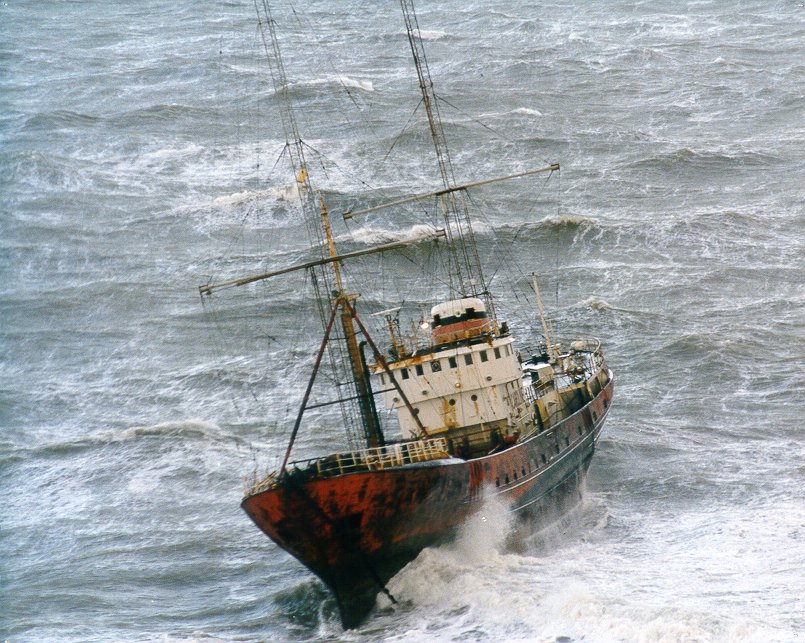 Een jaar later in november 1991 liep de Ross Revenge geheel ontredderd op de beruchte Goodwin Sands.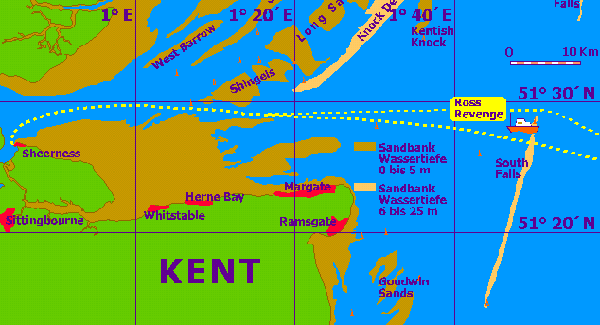 Met veel moeite werden de bemanningsleden gered van het eens zo trotse zendschip.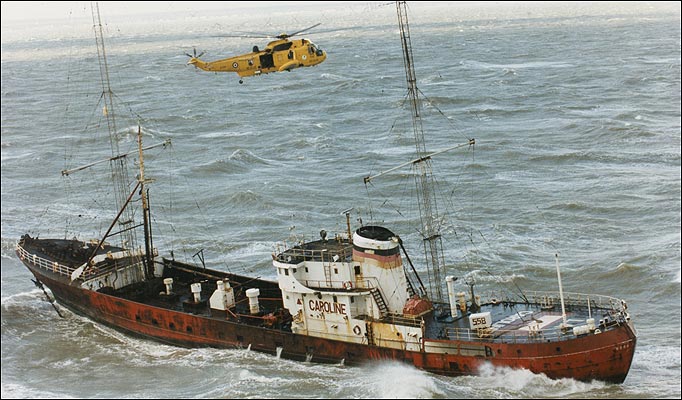 Zo moet het ongeveer zijn geweest in november 1991, immers deze foto is nep. Foto shop, u weet wel. De wentelwiek die de redding uitvoerde waagde zich absoluut niet tussen de twee masten, de bemanningsleden werden vanaf het achterschip gehesen. Het einde van een formidabel radio tijdperk..................of niet?
Immers vanaf 2008 hebben we weer een heuse Marinebroadcaster , te weten Radio Waddenzee/Seagull 1602.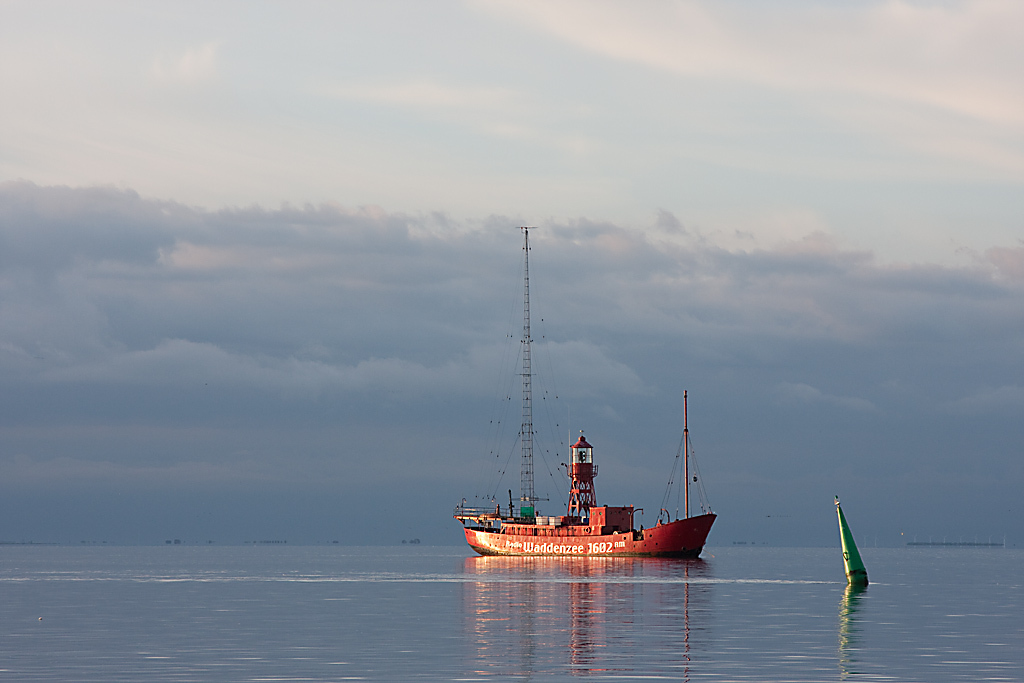 Het radiolichtschip Jenny Baynton, 8 zeemijlen uit de kust van Harlingen the pride of Friesland. Mei 2010.<photo Andre Toorn>
Overige photo's RC Archives.
---
28 Mei 2010 Permanente link Google Feed MSN Reporter
---
---
Reacties
Naam
Captainjohn @ 18:57 21-Apr-2017
Okay, wil meer weten over de radio dag as. 20 mei 2017.
Met vriendelijke groet,
De Captain.

---
Weblog